A few days after arriving in Lahore, Farhan and I took a bus up to Islamabad. The trip took 4.5 hours, and the road and the bus were in good condition–in that sense the trip was no different from a bus journey in Turkey, the US, or Western Europe. Along the road, through the foggy window, I saw many remarkable things: perfectly flat, wide, bright green fields, clumps of hand-built stone structures in which children played alongside the animals their families were keeping, and beautiful geological formations. After perhaps two hours of traveling we entered a region whose history had clearly encountered much more geological activity than the flat and fertile lands in south Punjab province. At one moment I saw columns of pink rocks sprouting up from the grass that reminded me of the Painted Desert in the U.S., then just a minute later we passed high rock walls. I was especially struck by a few hills that had evidently been formed when the sedimented layers of the earth were pushed up and at a sharp angle.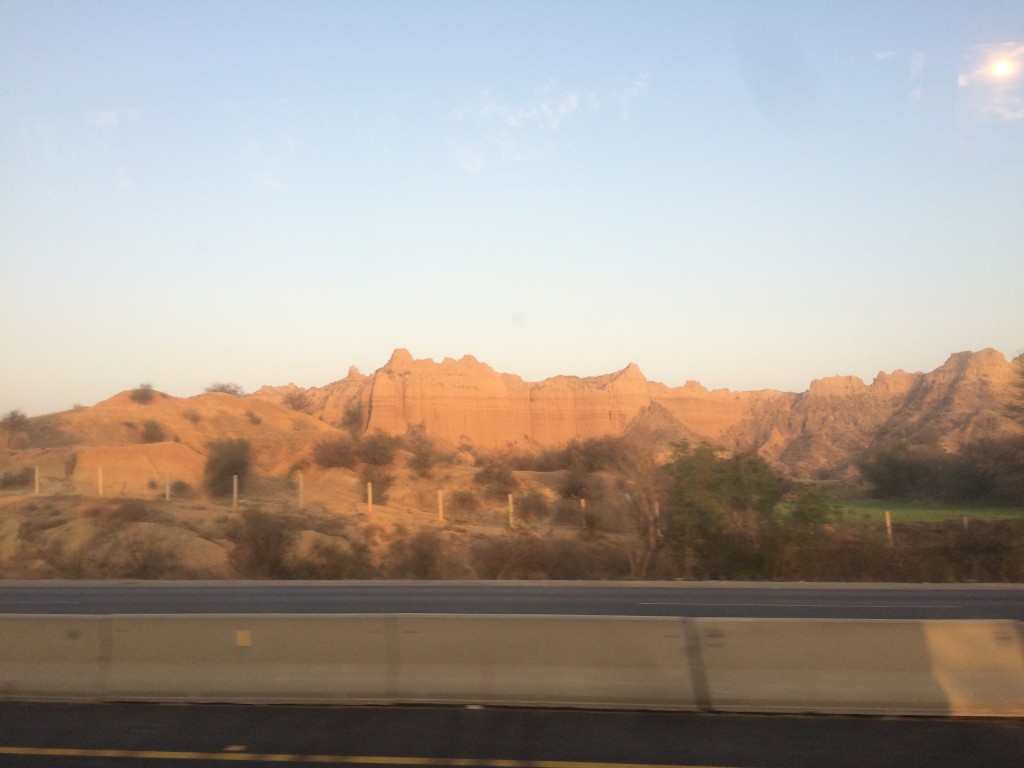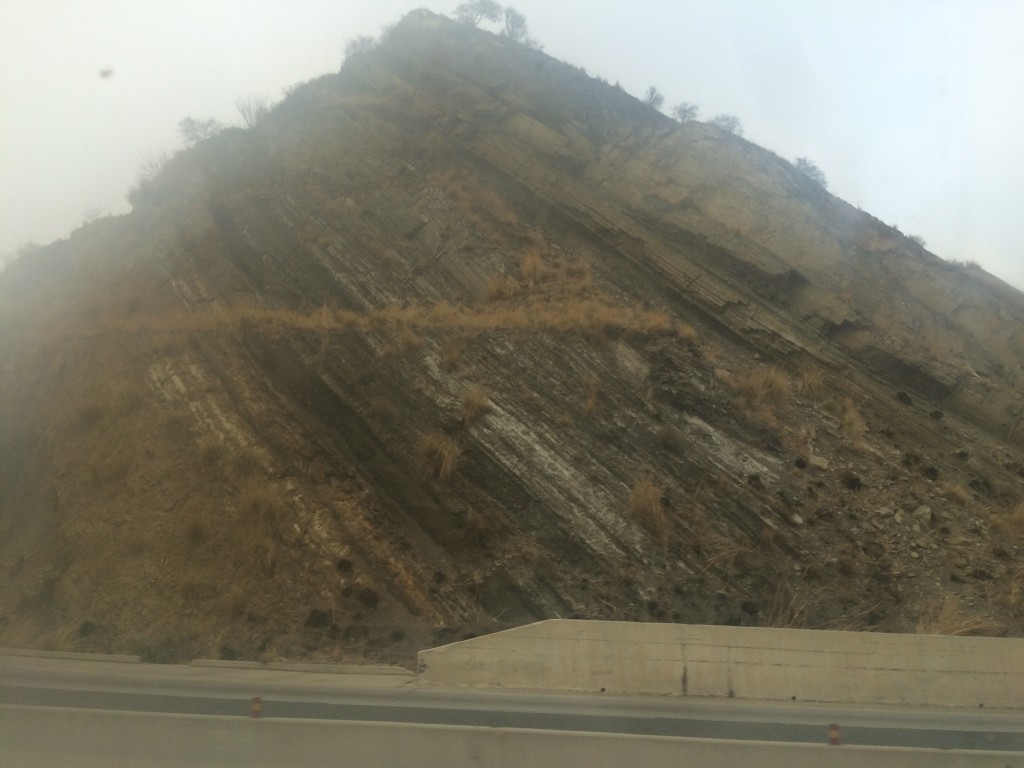 I had never seen such geological diversity in a small area–it reminded me that we weren't all that far from the famously mountainous areas of Khyber Pakhtoonkhwa (KPK) and Kashmir.
The first thing we did was to go for dinner to an Afghani restaurant. I generally don't eat red meat, but Afghani cuisine has a lot of it, so I made an exception. Everything that we ordered tasted great. We saw a lot of families from the KPK region there and we even met two Turkish people sitting at the table right next to us.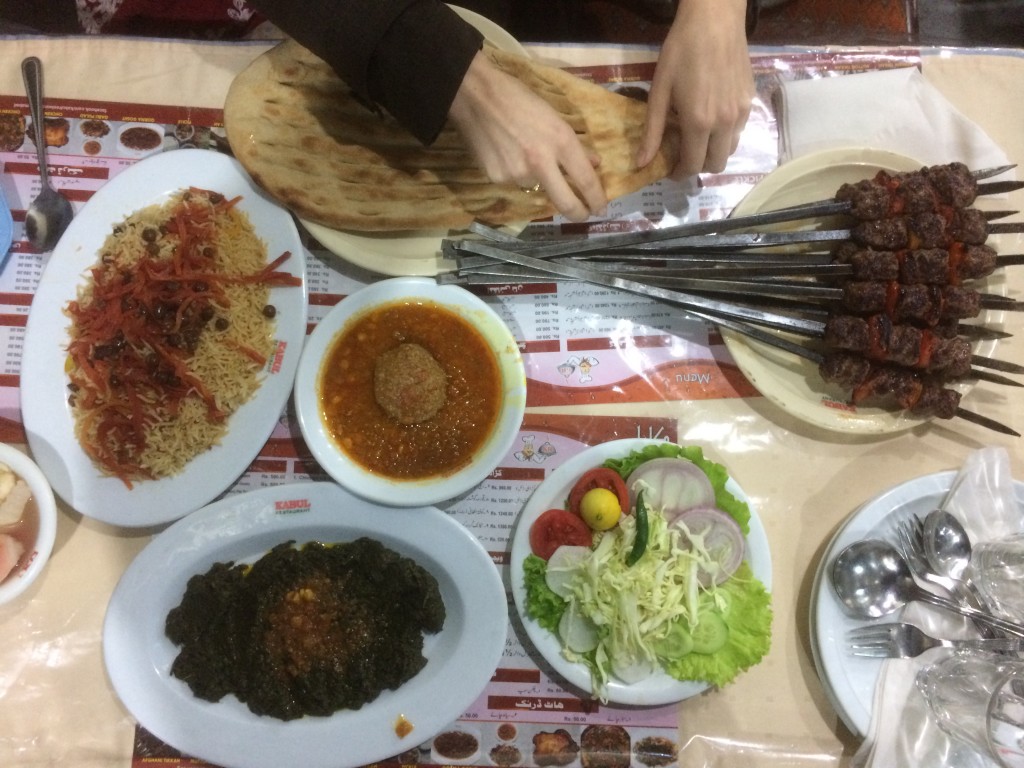 The next day we visited a few touristic areas, with a driver taking us around everywhere we went. First stop was the Pakistan Monument. Each of the four petals represents life in each of the four provinces. It was a peaceful place.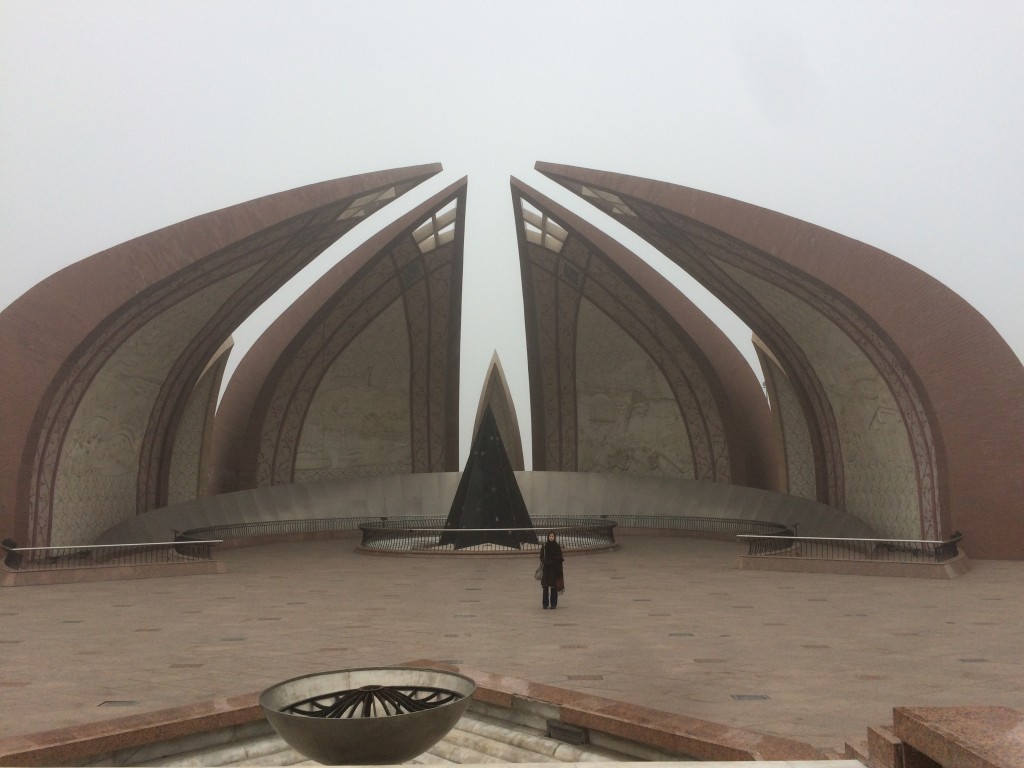 After that we walked a short distance to the Pakistan Monument Museum. At the museum I learned a lot about the history of the founding of Pakistan. Reading about Allama Iqbal made quite an impression on me, and now I know who the Lahore airport is named for! Really, Allama Iqbal seemed to have been an impressively educated, spiritual, eloquent, and artistic person. In Lahore I bought a biography about him.
Shortly after we entered the museum several groups of school children came through. I was disappointed to see that the teachers weren't talking to the children about the exhibits or even giving them much time to look at them. I asked Farhan to translate to me what the children were saying to each other. Generally, they seemed confident, witty, and playful–it was fun to just listen to them. One group was having a discussion about whether or not a statue of Muhammad Ali Jinnah (the founder of Pakistan) was real or not. Then we saw a few girls in the line of students carrying these signs: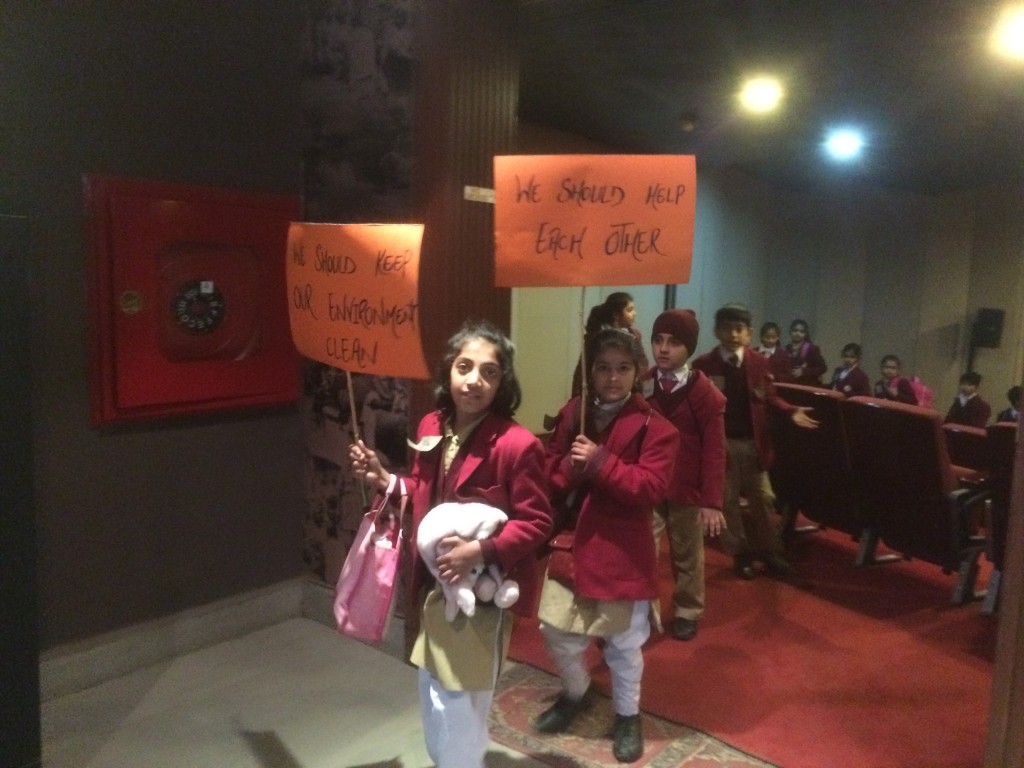 Farhan asked the girls why they were carrying them. "Our teacher gave them to us," they offered, but then added, "We are protecting the environment." The boy behind them spoke up, saying, "They are holding these signs but they don't know why they are doing it."
The next museum we entered was the Lok Virsa, where I bought several cheap DVDs and CDs of Pakistani music and we saw lots of exhibits on the clothing styles, handiwork, dwellings, and customs of the many people groups that have lived in what is now Pakistan.
We noticed that at the ticket counter there was a list of entry fees: one for Pakistanis and one for foreigners. At both museums the workers were surprised that 1) I was a foreigner and 2) that anyone would ask for the foreigner price instead of trying to pass as a citizen. The foreigners' ticket was much more attractive then the other one–it was so we could keep it as a souvenir, one of the guards told us.
Next, we went to the largest mosques in Pakistan, Faisal Mosque, named after the Saudi king who donated a lot of money to the country. Surprisingly, the mosque was designed by a Turkish architect, Vedat Dalokay.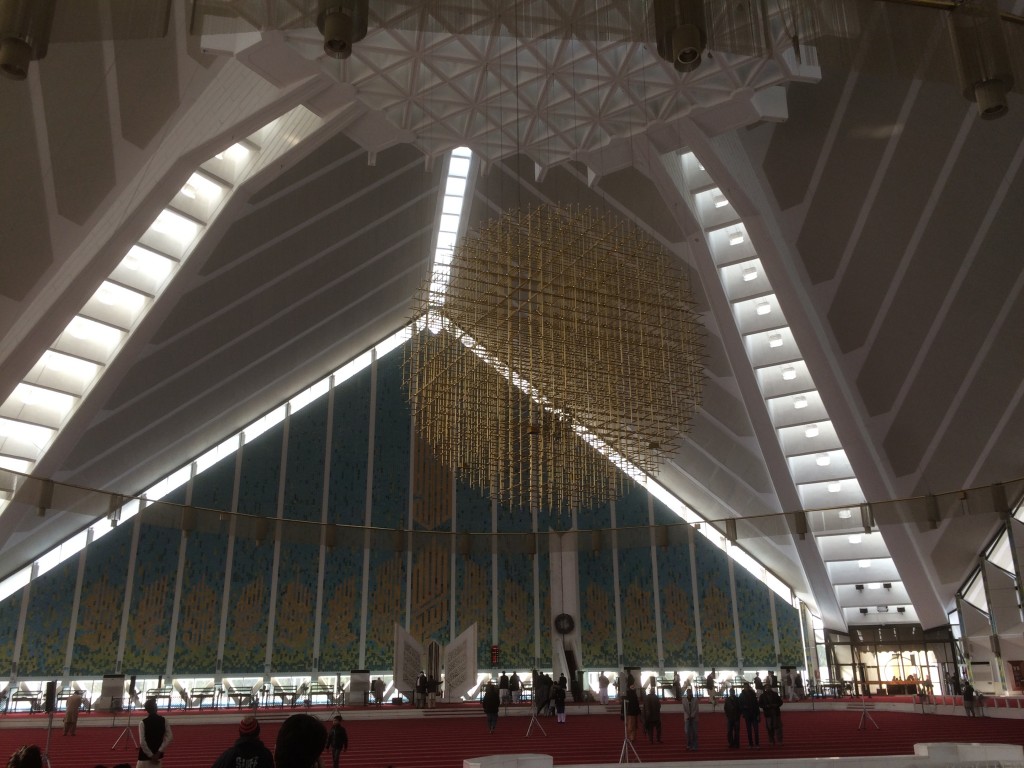 We then went a few kilometers north up to Damn-e-Koh ("The Lap of the Mountain"), which is a large park with picnic tables, play areas, and a few restaurants that offer nice views of the city. As the car climbed up the mountainside I saw a furry dog at the treeline…no wait…a monkey! Islamabad was the first place where I saw wild monkeys in my life. If you offer them food, they come right up and take it out of your hand. But, as I learned, if they don't like what you have given them, they get angry!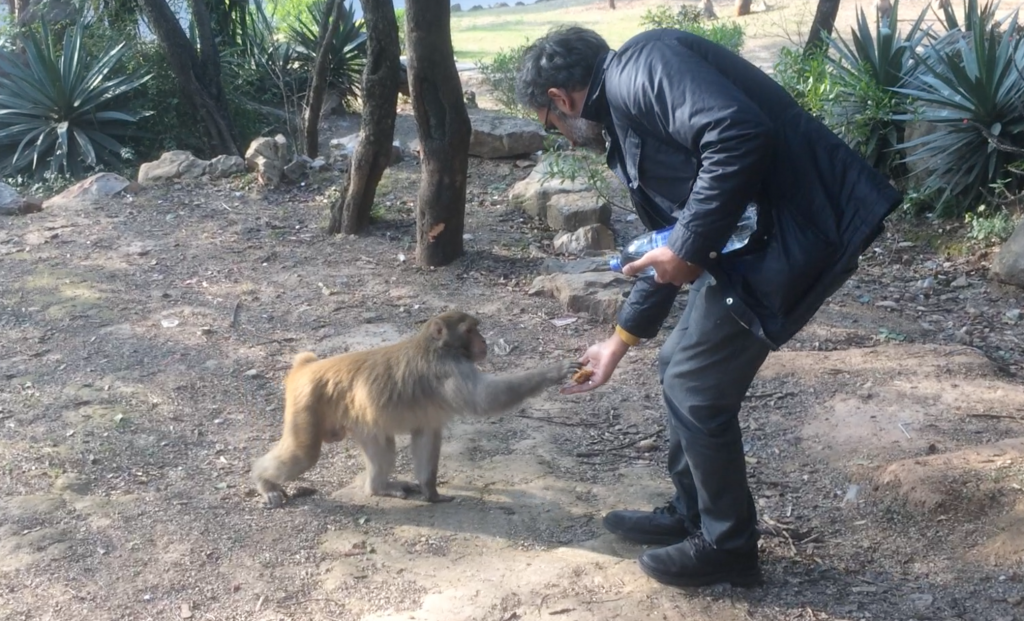 We had a delicious meal at one of the restaurants, and we invited our driver to join us.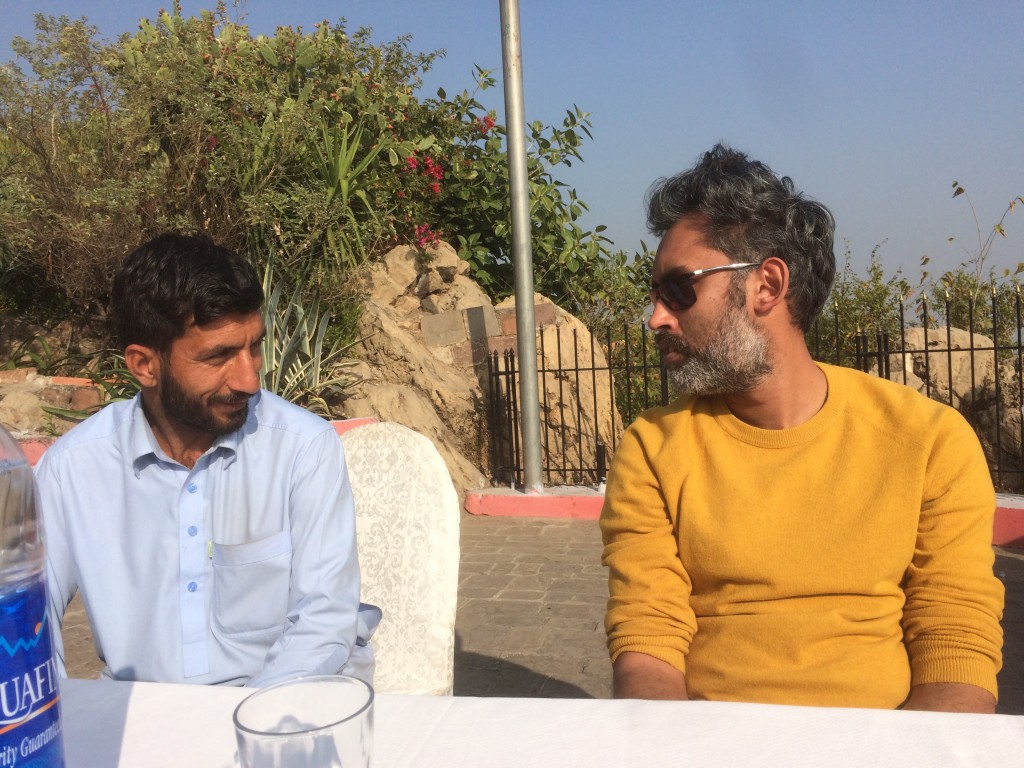 My favorite moments during the trip happened when we had conversations with the people around us, especially the service workers. We learned that our driver was from Gilgit. We can't confidently recall his name, unfortunately. His wife and children live there and he works in Islamabad. The speak one of the Pahari dialects of Punjabi. We asked him of his opinions on the Bacha Khan University attacks that had happened just the day before. It was a horrible thing, he lamented. He also told us that the attackers blended in well with the many other people at the university that day, so that even if the security had been adequate, how would they have been able to stop them?
In the evening we walked to the Centaurus Mall, where I saw called Outfitters that looked exactly like a Hollister.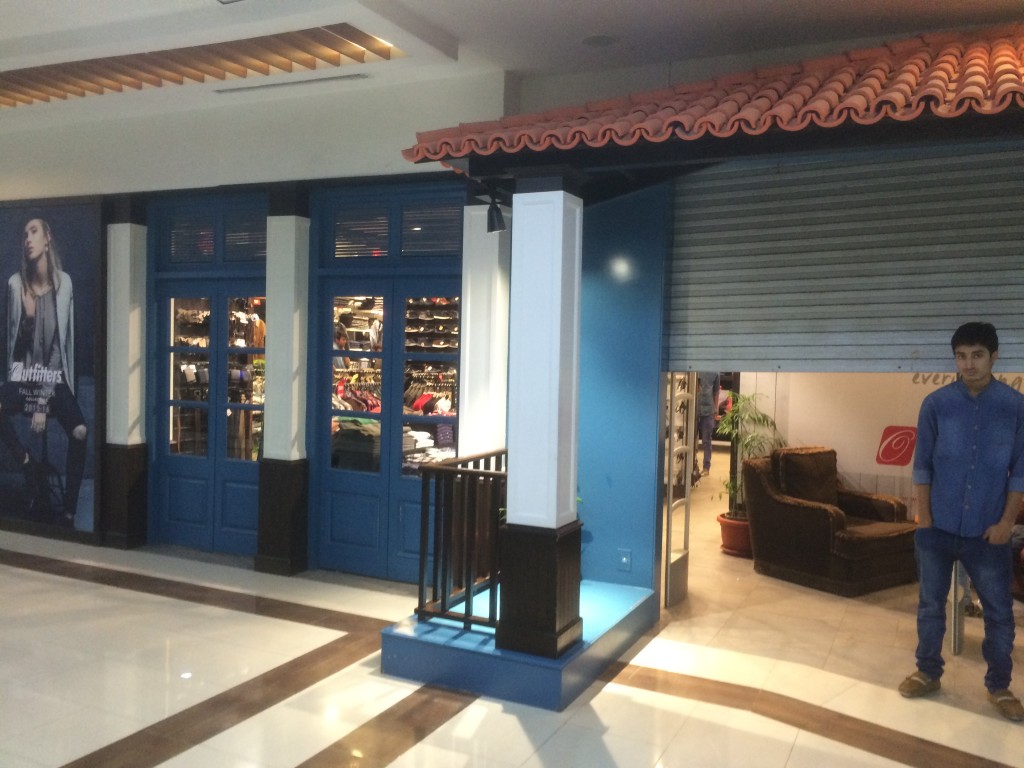 It was nice to walk around a bit in Islamabad, which was easier to do near our hotel than it had been in Lahore. That portion of the city (near the mall) felt familiar to me, with lots of grass and trees, wide, straight streets, and rows of large houses.
After two days we took the bus ride back to Lahore, arriving in time to catch a music performance at a restaurant that I will pick up with in the following post.